CHAMROUSSE 1650 Ski Rental - VERNON SPORT Ski Hire - Up to 50% discount
VERNON SPORT - CHAMROUSSE 1650 - HOME
CHAMROUSSE 1650 Ski Rental - VERNON SPORT Ski Hire : book your ski and snowboard equipment online ! You will have the best prices : up to 50% off on your equipment.
HOME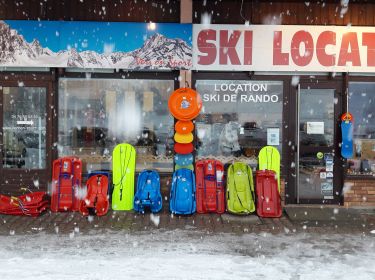 WELCOME to VERNON SPORT - CHAMROUSSE 1650
A specialist since 1994 in ski hire, you are most welcome in our family shop. Closely focused on your needs, our real mountain professionals will advise you to select a well maintained equipment appropriate to your skier type.
ALPINE SKI, SNOWBOARD, SKI TOURING, MINISKI, CROSSCOUNTRY SKI, SKATING SKI, SNOWSHOES, SLEDGES, HELMETS… a large choice of ski equipment is available for successful vacations with family or friends !
In addition, we are highly skilled professionals of ALPINE BACKCOUNTRY SKI GEAR. We propose a large backcountry skis and shoes selection for hire together with security kits.
Book online and save up to 50% on your ski and snowboard equipment at CHAMROUSSE 1650.
We also provide a repair and maintain service for your skis and snowboard in our professional workshop.
See you soon in CHAMROUSSE 1650,
VERNON SPORT team
Delighted to serve you
ADVANTAGES VERNON SPORT

Discounts up to 50%
Book online and get up to 50% discount on your ski rental.

Discount -5% extra!
Enjoy 5% extra discount with discount code: WINTER2024

Discount -5% from 280€
For all hires above 280 euros. Get 5% off.

Ski or snowboard?
With the Multi-Glides option, you change when you want!

Ski hiring and Ski Pass
Sale of ski passes with your equipment rental at the shop.

Free car park
Parking in front of the store to load your skis without effort.

Free ski storage
Free storage for rented equipement (skis & boots).

Ski Touring our speciality!
We propose 2 categories of equipment to rent.
Climbing skins and blades are included in the ski rental. More infos

Student welcome !
10% discount on the equipment, directly in the shop.

Helpline
A counselor is available on the phone to guide you and advise you.


Secure Payment
Information? Contact us...
04 76 59 02 29
12 Place du Vernon
RECOIN
38410 CHAMROUSSE 1650