SKISHOP - VERNON SPORT - CHAMROUSSE 1650 : Skishop Hire
VERNON SPORT - CHAMROUSSE 1650 - SHOP
SKISHOP - VERNON SPORT - CHAMROUSSE 1650 : Sale of technical equipment and clothing: hats, gloves, sunglasses, pants and ski jackets, ski equipment, ski touring and telemark ...
SHOP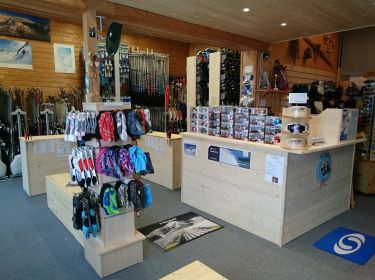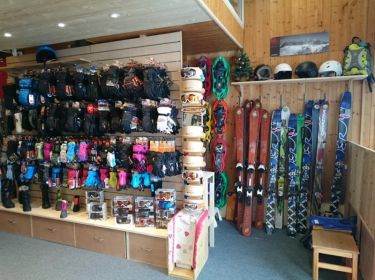 VERNON SPORT is located at an ideal place in Chamrousse 1650, close to the center of Recoin (Chamrousse 1650), which will make an easy parking spot upon your arrival to the resort. A vast FREE PARKING LOT of 300 spots is right in front of our store. Upload your ski equipment directly into your car or take a FREE SHUTTLE right in front of the store, it will take you directly to the gondolas. Or if you prefer a quick warm up, just walk 10 minutes to get to the Gaboureaux chairlift.
No need to go to the skipass purchage point, we sell in our store skipasses at the exact same price. You have understood : no waste of time before the pleasure of «la glisse»!
Jean-Christophe and her team of professionals welcome you everyday during the winter season.
We are specialists of alpine ski hiring (downhill, all mountain, miniskis), snowboards, touring skis. We also propose cross-country skis, traditional and skating, snowshoes, sledges and helmets.
We dedicate more than 20 years of experience to your service. We take our time to advise you in a casual yet professional atmosphere ! We enjoy getting to know the children of customers we have known at a time they were children themselves ! Ask for the great advice about Chamrousse... we are regular skiers as well in Chamrousse.
A large choice of gloves, beanies, ski masks, sunglasses, helmets, socks, après-ski shoes... at very competitive prices are proposed in our shop. In addition, you can find belts, Go Pro cameras accessories, snow crampons, everything that is useful in a winter ski resort.
Our repair workshop is located inside the shop.
We maintain the rental equipment on a regular basis, shoes are dried and disinfected at every rent. We also propose our professional services for your own skis or snowboards. After quotation, you leave your skis late afternoon and get them back repaired tomorrow morning. Ready to ski !
By booking online at VERNON SPORT, you can save up to 50% on your ski and snowboard equipment rental at CHAMROUSSE 1650.
ADVANTAGES VERNON SPORT

Discounts up to 50%
Book online and get up to 50% discount on your ski rental.

Discount -5% from 280€
For all hires above 280 euros. Get 5% off.

Ski or snowboard?
With the Multi-Glides option, you change when you want!

Ski hiring and Ski Pass
Sale of ski passes with your equipment rental at the shop.

Free car park
Parking in front of the store to load your skis without effort.

Free ski storage
Free storage for rented equipement (skis & boots).

Ski Touring our speciality!
We propose 2 categories of equipment to rent.
Climbing skins and blades are included in the ski rental. More infos

Student welcome !
10% discount on the equipment, directly in the shop.

Helpline
A counselor is available on the phone to guide you and advise you.


Secure Payment
Information? Contact us...
04 76 59 02 29
12 Place du Vernon
RECOIN
38410 CHAMROUSSE 1650